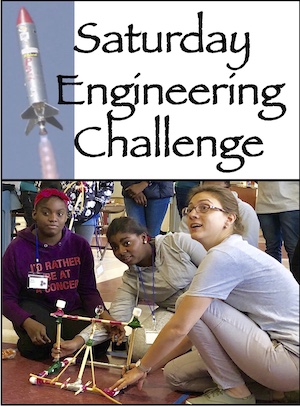 See More Activities Like This
Saturday Engineering Challenge 2019
A middle school program for students to design, create, build, explore and have fun. Monthly on the 2nd Saturday. Students are paired with Northwestern Engineering Graduate students as STEM mentors. Free Jet's Pizza lunch is provided.
NEW FOR 2019: Arcade Game Design Challenge: Design and build your own physical Arcade Game to showcase at the citywide Cardboard Arcade Carnival on January 25 at the Evanston Public Library.
SCHEDULE:
Oct 12: Field trip to Nickel City to develop arcade game design ideas.
Nov 9: Learn cardboard engineering techniques and running motors with micro-boards to build and race a cardboard robot.
Dec. 14: Learn how to incorporate sensors into your arcade game design
Jan. 11:: Build and finalize your Arcade Game!
Jan. 25: Citywide Arcade Showcase at Evanston Public Library. K-5 students will attend to play your game! Prizes, awards and fun!
A partnership program between Family Focus, the Evanston Public Library, the McCormick School of Engineering at Northwestern University, and EvanSTEM.
---
Age: 12—14
Cost: FREE
Type: In Person