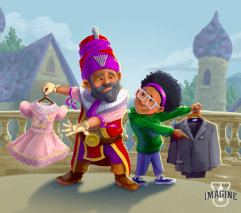 See More Activities Like This
Emperor's New Clothes Party!
Come see a scene from Northwestern Imagine U's newest production! And then become en emperor yourself by making a gorgeous crown!
Parents, bring your kids to enjoy a scene from Northwestern University's upcoming show, The Emperor's New Clothes! Then do crafts designed to help turn your kid into a storyteller! We will be making both our own crowns and a puppet made from recycled clothing -- to support the play's reduce/reuse/recycle message. (Retelling a story strengthens narrative skills, an essential component of reading well.)
Feel the energy of talented young actors as they share this story about both sustainability and ego. The show is geared to 7 years and above; but anyone welcome to come to this party!
---
Age: 7—11
Cost: FREE
Type: In Person